Getting married is stressful, we've all witnessed a good friend (or, if we're being honest, maybe ourselves) turning into the scary "bridezilla" as the big day draws near! Everything needs to be perfect but once you've got the all important dress sorted out you need to turn your attention to your hair! Is it going to be up or down? Long or short? Curly or straight?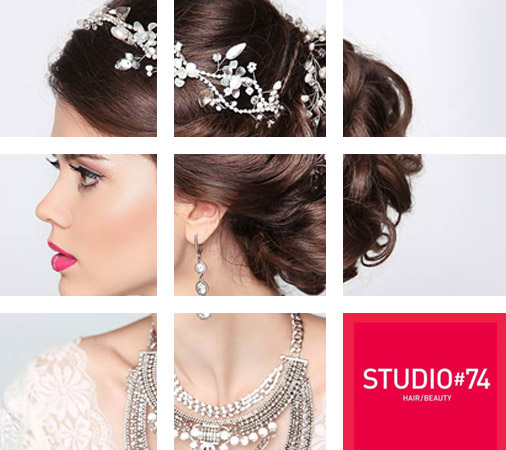 So many options, so many styles. You've probably got a Pinterest board filled with ideas. It's easy to get stressed out with it all but we're here to help you stay calm and collected with some essential tips to help make sure your hair will look tip top on the big day!
Make sure your hairstyle will compliment your dress. If your dress is simple and chic then you might want to opt for a more dramatic hairstyle. Similarly, if your dress is a heavily embellished ballgown you could choose a more refined and formal hairstyle.
Know your hair type. You might really love the idea a long, wavy hairstyle but this is going to be more difficult to pull off if you've got short, straight hair. Of course you could always opt for hair extensions if you really want long hair for your big day.
Book a trial run. Don't just assume your hairdresser will be able to recreate the style you want without having a discussion and a practice run first. A trial run will highlight any potential problems with the style you like, let you check the style will work with your dress and headpiece (remember to take your tiara or headpiece to your trial with you) and that it actually works with your face and hair type. Make sure you take a picture of the style you want along to your trial run, it will make it much easier for your stylist to understand the look you are going for.
Keep up with your hair maintenance. Don't be tempted to miss appointments in order to try to grow your hair for the big day. Keep split ends at bay by continuing with regular trims (up to every 10 weeks if you want to grow your hair out). If you are having a colour for your wedding day you need to have this done about 2 weeks before the big day.
Be prepared. On the day itself make sure you have plenty of spare hairgrips and hairspray to hand. Have a friend help you to tidy any stray hairs and push in any loose hair grips so your hair is picture perfect until the end of your reception.
Once you have your dress and chosen style sorted be sure to book a trial to discuss how you want your hair to look on your big day. Your stylist will be able to help you decide on a hairstyle within your budget that will work with your dress and headpiece. Most importantly they will ensure your hair is exactly how you want it on your big day!
Studio 74 Hair & Beauty offer a free consultation for brides and bridesmaids. Prices for curling from £15 , hair up from £25 and Brides hair from £80 (including 1 trial).