Welcome to Studio74 Hair and Beauty in Peterborough, Gunthorpe! Are you tired of dealing with hair disasters, such as frizz, unruly curls, or damaged locks? Don't worry; we have the perfect solution for you. In this blog post, we'll delve into the world of keratin blow-dries, an incredible and safe treatment that can transform your hair. Get ready to bid farewell to those pesky hair problems and say hello to fabulous, frizz-free locks. Sit back, relax, and let us guide you through the amazing benefits, processes, and maintenance tips of a keratin blow-dry.
View this post on Instagram
---
What is a Keratin Treatment?

A keratin blow-dry is a luxurious hair treatment designed to infuse your locks with nourishing keratin proteins. This miracle ingredient works wonders in taming frizz and delivering silky smooth hair that radiates health and vitality. Say goodbye to those unruly tresses and welcome a stunning transformation!

The Benefits of a Keratin Blow-Dry

Prepare to be amazed by the multitude of benefits a keratin treatment offers. Not only will you bid farewell to frizzy hair, but you'll also welcome sleek, manageable locks that require less time and effort to style. This treatment also enhances the natural shine of your hair, giving it a healthy and radiant appearance that turns heads wherever you go.

The Safety of Keratin Blow-Dries

At Studio74, your safety is our top priority. Our professional stylists use high-quality, specially formulated keratin products that are gentle and non-damaging to your hair. We take immense pride in providing a safe and enjoyable experience, ensuring you can relax and indulge in the transformative power of a keratin treatment.

The Keratin Blow-Dry Process

Allow us to guide you through the pampering process of a keratin blow-dry. First, we'll conduct a personalized consultation to assess your hair type and desired results. Next, we'll wash and thoroughly dry your hair. Our skilled stylists will then apply the keratin treatment section by section, ensuring every strand receives its nourishing benefits. Finally, we'll seal in the magic with a gentle heat treatment, leaving you with beautifully smooth and manageable hair.

Post-Treatment Care and Maintenance

To prolong the effects of your keratin blow-dry, we recommend some simple post-treatment care. Opt for sulphate-free shampoos and conditioners to maintain the health and longevity of your treatment. Avoid excessive heat styling and remember to use heat protectant products when necessary. Regular touch-up treatments will also help keep your hair looking its best.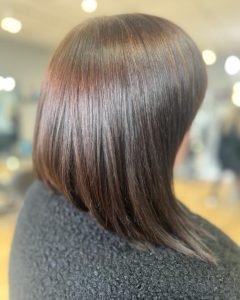 Who Can Benefit from a Keratin Blow-Dry?

Whether you're battling with frizz, struggling to tame unruly curls, or longing for smoother, more manageable hair, a keratin blow-dry is suitable for you. Our expert stylists at Studio74 Hair and Beauty in Peterborough, Gunthorpe, are highly skilled in tailoring the treatment to suit your unique hair type and concerns. Get ready to transform your locks and boost your confidence!

Frequently Asked Questions (FAQs)

We understand that you may have some questions about keratin blow-dries, so let's address a few common queries. Curious about the duration of the treatment or its suitability for your sensitive scalp? Rest assured, our keratin blow-dry typically takes 2-3 hours and is safe for all hair and scalp types. If you have any specific concerns, our friendly team is here to provide you with the information you need.
Don't wait any longer to experience the magic of a keratin blow-dry at Studio74 Hair and Beauty in Peterborough, Gunthorpe. Book your appointment today by visiting our website at book online or give us a call at 01733 577 599. Get ready to embrace sleek, frizz-free hair that will leave you feeling confident and beautiful. We can't wait to help you achieve the hair of your dreams!
To book, call us on