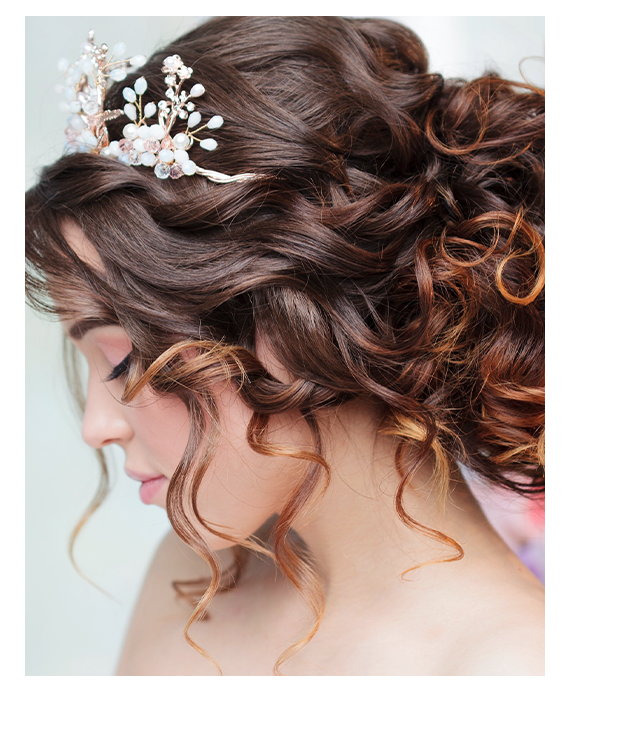 Wedding Day Hair With Studio74
With the inevitable stress that arrives hand in hand with your eventual perfect wedding day, the amounting worries and concerns can be consuming.
So breathe. Take a moment.
Studio 74 not only delivers the all-important hair perfection on your wedding day, but we guide you through all the different ideas and styles that will make you dazzle on the day. Our passion and perfectionist attitude will have you looking so gorgeous, you won't know whether it's an aisle you're walking down or a catwalk. We are more than happy to trawl your Wedding Pinterest board or flick through the hundreds of screenshots you've collected on your phone to find the perfect 'do to suit you. Keep calm and enjoy the attention!
How We Make Sure Your Wedding Hair Is Perfect
Your wedding hairstylist does not just examine your ideas. They also look at you, your hair and your dress. We create a comprehensive understanding of the impression and look you wish to convey on your wedding day.
We help you choose a hairstyle that compliments your dress. Perhaps you have chosen a modest but pretty dress, in which case you may prefer your hair to inject the excitement and adventure into your overall appearance. Alternatively, you may select a more outgoing dress where a bigger, bolder look will be more up your street.
We ensure your hair type is taken into consideration. Our open, transparent advice means that you will look as incredible as you will feel. If there are certain styles that you want, but we don't think your hair type will allow it, we will explore alternative options with you. (Studio 74 hair stylists are trained in hair extensions, which is a great solution for those with shorter, thinner hair who desire more volume and length).
Book a trial run. Practise makes perfect after all. For both you and your wedding hairstylist a trial is indispensable. Any potential issues are quickly realised and rectified. You may decide the desired hairstyle is not what you want when seeing the complete ensemble including any hair accessories, such as tiaras or veils (these are worth bringing along for your trial). And don't worry about opening your purse, a trial is part of the deal when you choose us to make up your wedding hair.
Which Wedding Day Hair Services Do We Offer?
We want to guarantee that your wedding day hair experience is completely stress-free, professional, and built around your programme. Studio 74 dresses both the bride and bridesmaids' hair. Curling starts at £16.50, Hair Up from £30 and Brides Hair from £90 (including one trial). We have plenty of experience with preparing the bridal party to be hair-ready for the whole of your wedding day. Through smears of mascara, pops of prosecco and tears of emotion, we'll get you and your bridesmaids' hair looking breathtaking.