Getting Your Hair Cut With Studio74
Your hair is totally unique to you. That is why it is so important to have the haircut that really emphasises your style and appearance. Studio 74 prides itself on owning a team of hair and beauty experts who utilise their professional skills to achieve the cut style you crave. In addition, Studio 74 stylists supply the prerequisite care for maintaining the sumptuousness of your hair.
Magazines, Instagram and Pinterest award a bucket-load of inspirations; the internet is a world filled with new haircut ideas that you may never have considered for yourself. In addition, the professional stylists at Studio 74 own the skills to turn your desires into a reality. We have the advice, equipment and extensive portfolios to stimulate and motivate you to try something entirely new and completely amazing.
Discussing your honest desires with your hairstylist will ensure you leave our salon looking and feeling on top of the world. Furthermore, we encourage you to take advantage of a free consultation with a stylist to discuss exactly what you want!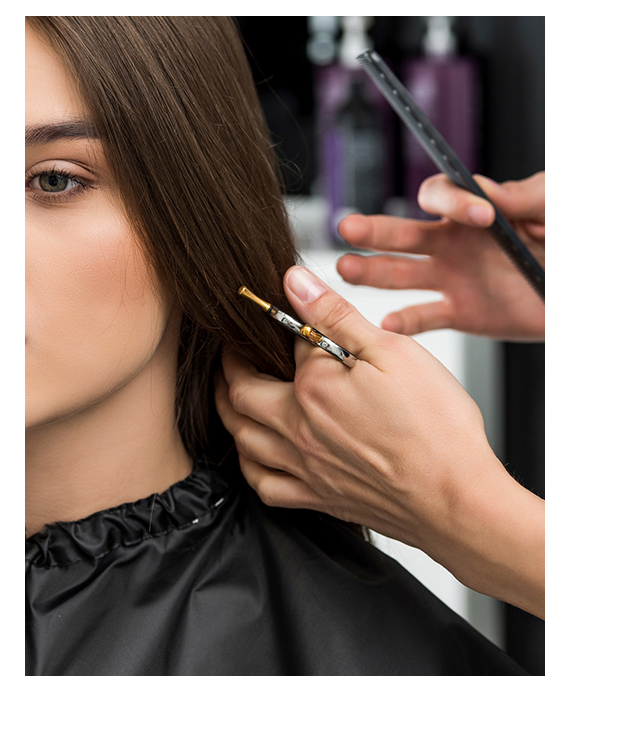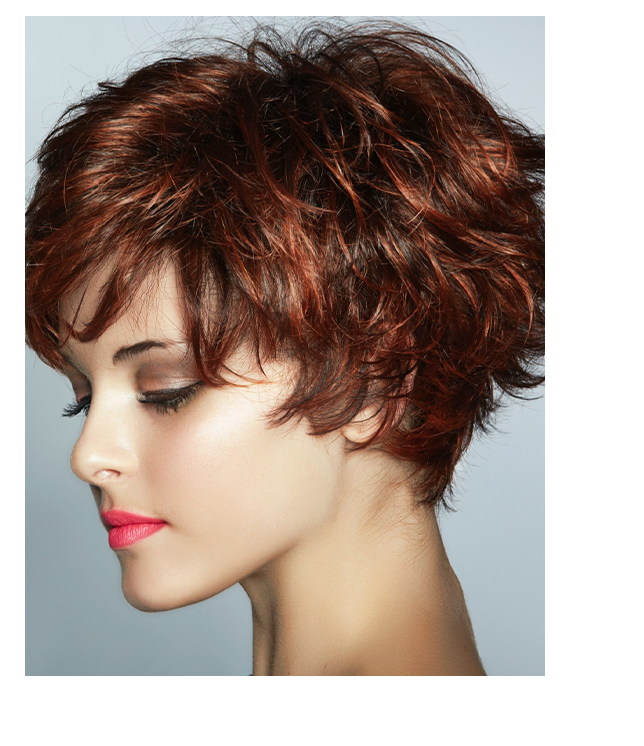 Short Hair Cuts
Deciding on a short hair cut or hairstyle can be a difficult decision. There are so many different techniques and looks you can choose from, and it might also mean a dramatic change from your current style. Going from long hair to a stunning pixie cut, for example, can be daunting. As such, you want to feel the confidence of being in the competent hands of the stylists at Studio 74.
If you're simply looking to update your short hair cut, there are plenty of styles and ideas we can share with you. We take into consideration your face shape, and we will give honest advice. There are so many amazing short hairstyles to choose from, but ultimately you must choose the right one for you. If you're feeling particularly bold and ready for a complete transformation you could also consider a daring colour to compliment your new short hairstyle.
Just some of the short styles we do at Studio 74:
Pixie: The pixie hair cut is great if you're looking for a simple 'wash and go' style. It can work on thick or thin hair, curly or straight.
Bob: With the right cut pretty much anyone can rock a bob hairstyle. Collarbone, chin or cropped length will work on fine hair. Choppy, textured, smooth and straight all look great on bobbed hair.
Inverted Bob: With an inverted bob the layers are stacked at the back with the front being longer. Add dramatic effect with shoulder-length strands at the front.
Shoulder Length Hair: The easiest for everyone to wear; It's not as scary as going super short but can still give your style a refresh. This length works with all textures.
Layered Bob: Adding layers to a bob hair cut allows you to either increase or reduce the volume of your hair and brings a classic bob up to date.
Asymmetrical Cut: An edgy, daring take on the bob. This look will get heads turning for all the right reasons.
So, if you feel like trying a new short hair cut or hairstyle, book an appointment for a consultation with your favourite hairstylist at our Gunthorpe or Dogsthorpe Hair Salon in Peterborough now!
On the other hand, if it is that you're hankering for the longer locks you used to love, you could always consider having hair extensions put in with Studio 74's expert weavers.
Mid Length Hairstyles
Medium length hairstyle are some of the easiest to wear. They provide countless styling options to make changing your look a doddle. Whether you're transforming your office-ready prim and prepped hairdo for something more tousled and textured, our stylists own the techniques to create the beach look you are looking for. Maybe you are pruning down from a super long hairstyle, or perhaps you want to add length to your short hair with hair extensions, Studio 74 will help you own the style you want.
Our stylists are able to perform blow-dries on mid- to medium-length hairstyles for either bouncy or curly hair, beach waves or straight and sleek. We will guide you with considerations towards your face shape.
Your Studio 74 hairstylist will find the right medium-length style for you. Such styles include:
Lob

: Low maintenance and can be styled with as much or as little dramatic effect as you like; it is super versatile.

Blunt

: The blunt cut is extremely popular as its striking style suits most face shapes. Whether your hair is wavy or straight, a blunt cut will add interest while making your hair look fuller and thicker.

Long Layers

: Long layers in medium length hair creates varying degrees of volume depending on the fineness or thickness of your hair. Curly hair is easier to manage with layers added.

Short layers:

  Short layers simply mean the distance between each layer is shorter, not that the actual layer itself is shorter. This gives you a lot of versatility when it comes to styling as short layers are more subtle.

Volume

:  Adding volume to medium length hair can be achieved by adding layers, (though we would deter you from this for finer hair).

Shaggy Cut

:  Medium shag hairstyles give an on-trend look that you can style in many different ways depending on the layering. Your stylist can add feathering at the ends, or for more intensity, introduce a spiky finish.

Face Shaping

:  To make the most of your hairstyle your stylist will look at your face shape and suggest a cut that compliments you. A fringe will shorten a long face while face-framing layers can elongate a round face.

Texturising

:  Your stylist might use this cutting technique to remove bulk from the style and add texture and shape.

Centre Parting

:  Choosing a centre parting to your medium length hair can be slimming and gives a modern edge. It looks great on a curly lob.

Side Parting

:  A deep side parting can transform your look without much effort and looks great on medium length hair.
Medium length hair doesn't have to be boring and there are plenty of cuts to choose from to give you a fantastic look. If you fancy a sexy, eye-catching twist to this style of cut, why not consider one of our Fashion Colour Styles like Mermaid or Unicorn?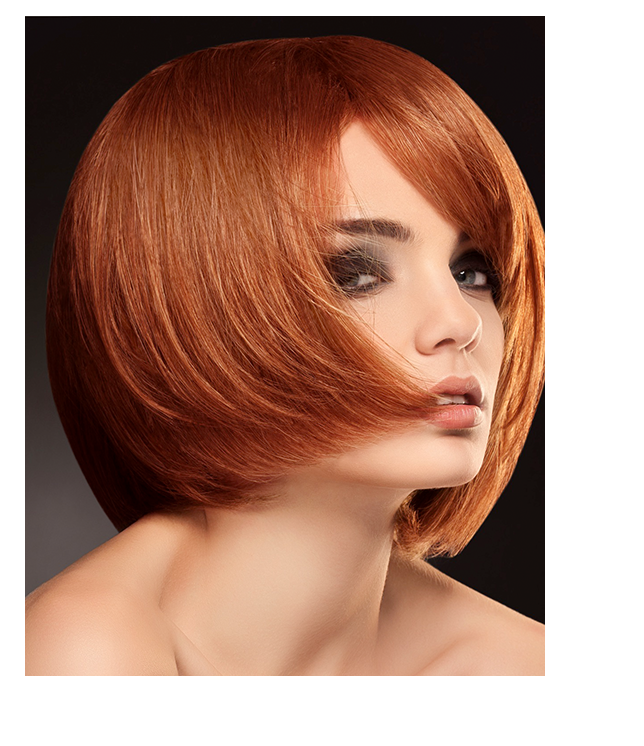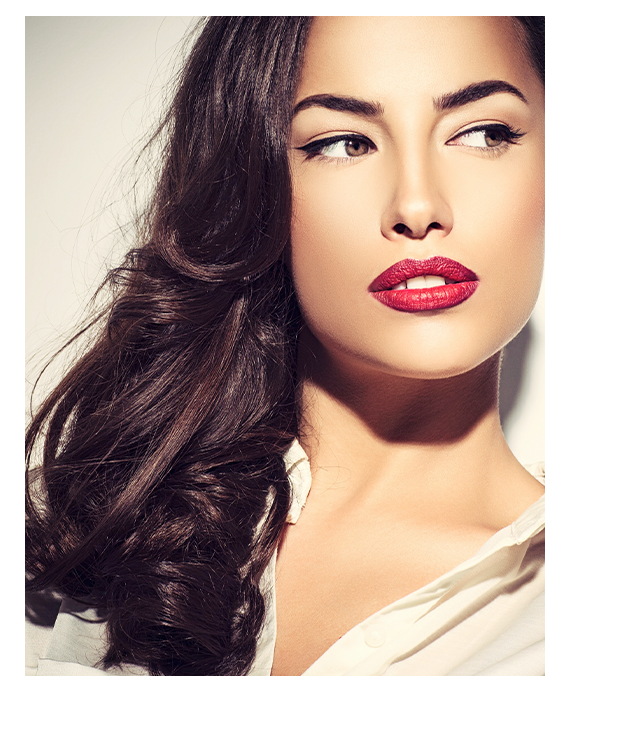 Long Hairstyles
It's easy to neglect long hair. Your daily usage of straighteners and hairdryers will leave it feeling dry if not managed, and the casual convenience of a ponytail stresses your follicles. On the other hand, long hair can look amazing with the right cut, style and care. With Studio 74's expertise, you will leave with a whole new look.
Our experienced hairstylists will discover the most flattering and appropriate cut to suit you. From extra volume and length with the use of hair extensions to the addition of a few subtle layers for a refreshed style, we ensure the final result looks incredible.
Some of the long hairstyles we offer at Studio 74:
One Length: Forgoing the layers and keeping your long hair all one length can add thickness to fine hair and looks great if your hair is naturally straight.
Layered: Soft layers can help frame your face and add texture and movement to your long hair. Layering will accentuate waves and curls.
Tapered Ends: This cut will remove bulk and add texture with a streamlined look.
Volume: To add volume to fine, long hair your stylist might suggest adding a fringe, wearing your hair curly or adding waves and cutting in layers.
Long Layers: Adding in long layers to your long hair can reduce the volume of your hair without losing any length. Great for thick heavy tresses.
Smooth: Long, straight and smooth hair is great if you have naturally straight hair. Regular trims ensure it looks the best it can.
Bouncy: Big, loose curls add bounce and volume to long hair.
Super Sleek: Straight, sleek long hair looks well-groomed and classy. Wearing this in a high ponytail looks simple and chic.
Waves: Adding waves to long hair creates volume and softness and can transform naturally straight hair.
Studio 74 insists that with any style you choose, with us, you will receive the exact results you desire and that suit your appearance. Our stylists are professional, honest, experienced and approachable! They complete all variations of hairstyles at our Peterborough-based Gunthorpe and Dogsthorpe salons. Contact us for further enquiries.