If you're getting tired of your current hairstyle and have started thinking about getting an updated 'do' there are a few things to consider before you take the plunge. You might have scoured Pinterest and found a style you really like but is it really the right style for your face shape? Your stylist might advise certain styles that help compliment your face, this doesn't mean you have to stick with the same look and if you find out what your face shape is you'll be able to find plenty of interesting styles for you to try out!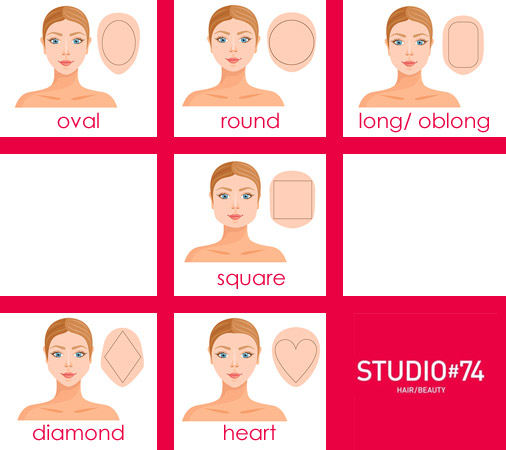 Find your face shape & hairstyle:
Finding out what styles suit you doesn't have to be complicated, there are a few simple things to remember when you're getting a restyle so that your hair stylist can ensure you leave the salon feeling fabulous!
First you need to find out what your face shape is. To do this at home, pull your hair back away from your face, use a headband or tie it out of the way. Alternatively, chat with your stylist and they will help you determine what your face shape is.
There are 6 face shapes, you should be able to see which face shape you fall in:

Oval Your forehead may be wider than your chin and you probably have a well balanced face shape. This face shape is really quite versatile in terms of hairstyles and if you fall into this category then you can pretty much try any style you fancy! Lucky you!
Round If you have a round face you probably have round cheeks and your face will be a similar width and length. The aim here is to elongate the face slightly, perhaps with a deep side parting or leaving a loose tendril to one side.
Square Your forehead, cheeks and jaw are probably the same width if you have a square shaped face. To highlight a strong jaw you could opt for a blunt, heavy fringe. Short styles work well too. If you'd rather soften the look then a longer style would help lengthen the face.
Heart This shaped face is typically wide at the forehead narrowing to a small, slightly pointed chin. Shoulder length hair will help widen the bottom of your face while funky, short pixie styles will draw attention to amazing cheekbones.
Diamond Similar to heart shaped but narrower at the hairline. This face shape suits angled bobs and layers to help balance the widest points of the face.
Long/Oblong If you have a long face it will be typically oval, just longer! This shape face is also described as oblong. Loose, wavy long hair can help widen the face, while layers will add texture and volume.

Use an app to try before you buy! There are some great tools available that will allow you to get an idea of how you will look with a particular style.
Speak to your stylist
When you're ready to take the plunge with a new hairstyle then be sure to speak to your stylist at Studio 74 they will make sure you get the look you want and don't forget to ask for advice on choosing the right hair colour for your skin tone to complete your new look.